The evolution of the Life TTGG project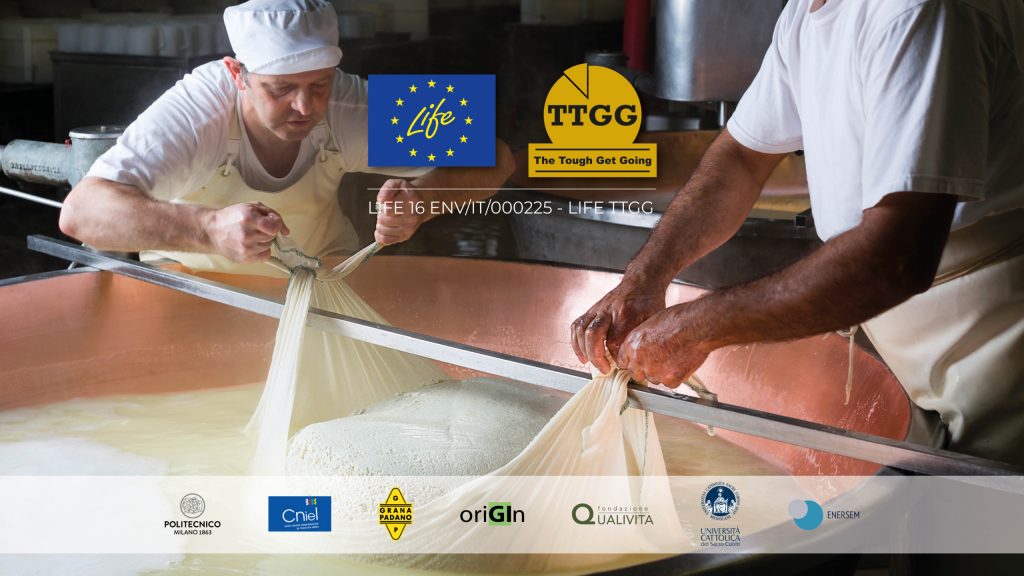 After five years the LIFE TTGG – The Tough Get Going project is coming to an end. Born from the synergy between Italian and French universities, start-ups, producers, training and research organizations, with the aim of improving the efficiency of the European PDO cheese supply chain (in particular hard and semi-hard cheeses) and reduce the environmental impact, thus achieving a more sustainable production and consumption according to the standards of the European Product Environmental Footprint (PEF) methodology, has resulted in a software support for environmental decisions.
The project to achieve the goal has developed through various steps including the analysis of the supply chain and ended with the development and application of a user-friendly software.
The first phase developed around the supply chain analysis through the systematic collection of data on a representative sample of the entire production chain of Grana Padano PDO: 65 companies producing raw milk, 20 dairies and seasoners and 18 packers. In order to: measure the environmental profile of the supply chains, create a benchmark, propose efficiency solutions and develop a software.
In addition, other Italian and European PDO Consortia were involved for the transfer of the methodology. Including: Asiago PDO (3 dairies and seasoners), Provolone Valpadana PDO (1 dairy and seasoner)For France, the Beaufort PDO and the Abondance PDO with 2 dairies and seasoners each, for Spain, the Queso Mahón PDO with 2 dairies and seasoners and England with 2 dairies and seasoners for the Stilton cheese PDO.
Data collection has allowed eight different data sets to be processed, which have been validated according to the International Reference Life Cycle Data System (ILCD) of the Joint Research Centre (JRC – European Commission).
Through the development and application of the Environmental Decision Support Tool software, we were able to evaluate the product footprint and encourage its reduction throughout the supply chain. The aim was to optimize the environmental and economic performance of the actors involved (from farms, to dairies and packaging manufacturers) and increase environmental awareness of individual producers and consumers.
Source: Fondazione Qualivita